Windy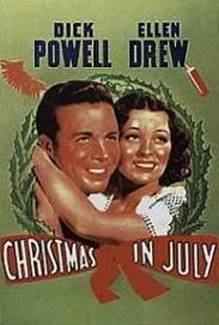 Just back from Chicago where I a) saw the Police at Wrigley Field, b) viewed giant ferns at the Garfield Park Conservatory, c) was sad to learn that
Trader Vic's
at the Palmer House has closed, for now at least, and d) saw a Preston Sturges film I'd never seen,
Christmas in July
-- on the big screen of LaSalle Bank Cinema, no less, plus a Merrie Melody ("Robin Hood Daffy") and a Three Stooges short.
Attesting to the savvy of the LaSalle Cinema folks is the fact that the Stooges flick, "Healthy, Wealthy and Dumb," had virtually the same premise as
Christmas in July
: a poor sap wins a slogan contest on the radio, or seems to, and hilarity ensues.
More on the Police soon, but just now I'm exhausted.